boat transport services in houston, TX
Getting Your Boat Ready For Local or Interstate Shipping
Sometimes a boat needs to be moved over the road. Local Car Shipping is more than an auto transporter. When the boating season ends, we can move your boat to the storage facility or bring a newly purchased craft to you.
Choosing a Boat Transporter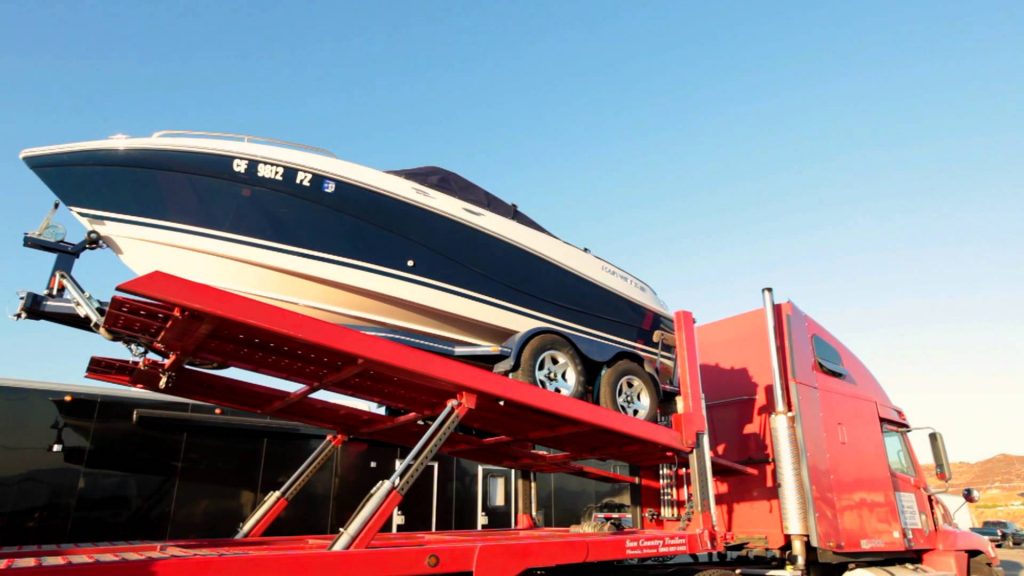 FMCSA Boat Transport Services Regulations
The Federal Motor Carrier Safety Administration (FMCSA) regulates auto and boat transporters. Before Hiring a boat mover, make sure they have a valid Motor Carrier Number (MCN). Local Car Shipping complies with all FMCSA regulations governing trucks, moving equipment, and insurance.
Interstate Boat Transport Service
Carrying a boat across state lines requires a knowledge of the trailering regulations for each state through which the vessel passes, including:
Maximum trailer length
Maximum trailer width
Maximum boat height
Maximum combined truck and trailer length
Minimum braking reguirements
Local Car Shipping has the knowledge and experience to move your boat between states safely and legally.
Getting A Boat Ready For Shipping
Prepping Your Craft For The Boat Movers
Taking the steps below helps ensure your boat will arrive at the delivery point undamaged. Failure to correctly prepare your boat for shipping relieves Local Car Shipping of any damage liability during transport.
Take Measurements
The required measurements are height x length x beam. Determining your boat's height requires measuring from the keel's bottom to the craft's highest point. The length refers to the boat's longest point. In calculating the beam or widest part of the vessel, remember to include anything attached to the side of the craft.
Clean And Clear The Boat
Your boat needs to be cleaned before Local Car Shipping picks-up the vessel. By law, you must remove (not secure) any loose items that may shift during transport, potentially causing damage to the boat.
Wrap The Propeller
The propeller is the most delicate part of a boat engine. Keep your propeller safe while in transit by putting a protective covering over the propeller.
Remove Zebra Mussels
Zebra Mussels are an invasive species with cream-colored D-shaped shells marked by zigzagging black stripes. The Department of Transportation (DOT) will halt a boat's transport with Zebra Mussels on the hull.
Multiple Vehicle Transport
Auto And Boat Relocation
If you are permanently relocating or moving to a seasonal home, you may need to ship more than one vehicle type. In addition to auto and boat transport, Local Car Shipping can ship your motorcycle and ATV to your new location. Visit our Services page and scroll to the bottom to learn more.
Boat Transportation Costs
What Boat Shippers Charge Per Mile
The boat's length and miles transported determine the cost of shipping. The list below contains boat lengths with an approximated per mile shipping charge.
Under 9′- $1.50-$2.50
9′- $1.75-$2.75
10′- $2.00-$3.00
11′- $2.25-$3.25
12′- $2.50-$3.50
Each foot of boat length adds about $.25 to the per mile transport fee.
Getting a Boat Shipping Quote
Local Car Shipping suggests getting quotes from several boat transporters. You can get a quote by calling the carrier or visiting their website.
Before hiring a boat mover, be sure they have the right equipment and insurance. The safe transport of your vessel depends on you properly preparing it for shipping. Transporters calculate the cost of moving a boat using length x mileage. Contact Local Car Shipping for all your vehicle transportation needs.
Car shipping services you might be interested in …
Need A First Class Car Shipping Company In Houston? You Found It!
Our work is always quick and efficient! We aim to save you time and money! Call us and get the best affordable moving experience to forget the heavy lifting and moving stress!