We also offer enclosed transport that is perfect for special vehicles for which you do not want to risk open transport. This service is perfect for those who own collectibles, vintage, or special series sports cars.
Enclosed Vehicle Transport For Classic And Luxury Cars
When it comes to car shipping, you have two main options. You can choose the cheaper option of an open carrier, but if your vehicle is a classic, exotic, or luxury model, then you need an option that offers more protection. Local Car Shipping (LCS) offers enclosed auto shipping services that can help to protect your ride and keep it in pristine condition on the trip.
Why Choose Enclosed Car Transport?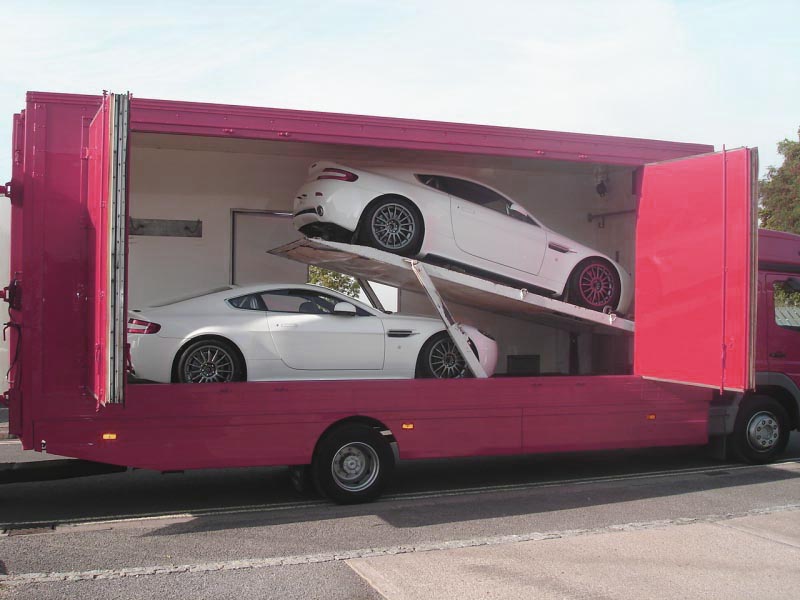 If our car is a luxury model or collectible, enclosed car transport is a professional option. When you ship your car on an open carrier, there is always a chance that the paint will be damaged by rocks, road debris, sand, or dirt. Also, you do not want to risk damage by snow, sleet, road salt, or hail while in transport. An enclosed vehicle transport carrier provides a safe space for your car and will protect it from damage from the elements.
On an open carrier, your car might be held in place by chains that are connected to the frame. The problem with this is that the chains can rub across the exterior paint and cause scratches. Also, where they attach to the frame of the car, they can scratch any underbody protective coatings and can cause rust to develop. When using enclosed car transport, straps that are soft and strong will be used to secure your car to the transport. They hold your car securely and will not cause the small nicks that can lead to rust issues later.
Another potential source of damage to your car is loading and unloading. It is easy to get off course and scratch the sides of the car when loading on an open carrier. An enclosed transport that uses a lift will reduce the risk and make sure that the car is loaded and unloaded safely. We take every precaution to make sure that your vehicle is loaded and unloaded without even the slightest scratch.
What Types of Vehicles Do We Ship?
Not all cars require enclosed vehicle transportation services, but it is an excellent choice for antiques, luxury cars, car auction collectibles, and special editions. Local Car Shipping is one of the enclosed car shippers which provides enclosed transport for certain types of historical military vehicles, vintage motorcycles, antique tractors, and boats.
Sometimes, you might choose enclosed car transportation services for a vehicle that you intend to sell to preserve its value. Using an open car carrier is risky. In most cases, everything is fine, but why risk it? An enclosed car carrier gives you several extra layers of protection for your special vehicle.
Type of Services Offered
Our hard side enclosed car carriers protect your collectible from the elements. We can help you with transport across town in Houston, TX, or we can ship nationwide. We are licensed and fully insured, which is another reason why you can rest assured that your car will arrive safely. You can call us for a personalized quote for your enclosed car shipping needs.
How Much Does It Cost To Ship A Car In An Enclosed Car Transport?
We offer a "white glove" service to all of our customers. We know that your car is an investment, and we treat it that way along every mile of our door-to-door service. Our prices are competitive, and we have the experience and equipment to get the job done right. Of course, enclosed shipping is more expensive than an open car carrier, but if you have a high-value vehicle, it is worth the extra confidence that your car will arrive at its destination in the same shape that it left.
Why Choose Us?
We have offices throughout the Houston and Huntsville areas, and we can deliver personalized solutions for shipping your car nationwide. We can ship internationally, too. If you are in the military and changing stations, we can help you get your car to its new home. From the moment that you call us, we take care of everything.
We are a leader in enclosed car shipping services and have an experienced staff that is dedicated to making the process seamless and worry-free. We offer a wide range of services and can customize them to meet your needs. If you need to transport your classic car, luxury model, or collectible car, call us at Local Car Shipping for a free enclosed auto transport quote.
Car shipping services you might be interested in …
Need A First Class Car Shipping Company In Houston? You Found It!
Our work is always quick and efficient! We aim to save you time and money! Call us and get the best affordable moving experience to forget the heavy lifting and moving stress!