shipping a car from houston to Dallas
When you need to ship a car from Houston to Dallas, you need a company that will treat your vehicle with care. Whether you need to ship your classic or vintage car to your new home, or you are a dealership that has several cars to transport from a car auction, you need to know that they will arrive without a scratch. Local Car Shipping specializes in moving your car, truck, SUV, motorcycle, or other vehicles, and we will get them to your destination efficiently and safely. Here are a few questions that you might have before you call for Dallas auto shipping.
How Do I Move My Car to Dallas?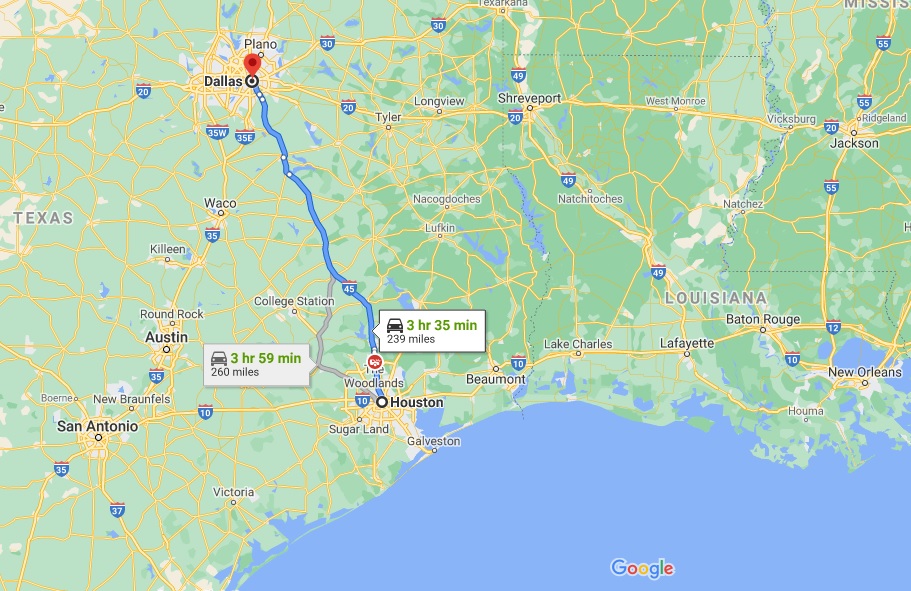 Shipping your car interstate is easy. All you have to do is call a company that specializes in interstate auto shipping and set up a pickup and delivery time at your destination. If you are moving to another state, you have several choices. You can drive your vehicles yourself or call a company who is a specialist in this type of transport.
There are several advantages to shipping your car as opposed to driving it yourself. It is safer, and there is less chance of an accident. Also, you might not have enough drivers for all of your vehicles. When you call for interstate auto shipping in Dallas, all you have to worry about is yourself and your family. We take care of your vehicles for you.
What's the Cheapest Way To Ship My Car to Dallas?
You have several options when it comes to using Dallas trucking companies to ship your car. You can choose an open carrier or a closed carrier. An open carrier has two decks that can hold several cars on each level. A closed carrier only transports one car at a time. Open carriers are cheaper, but your car is exposed to the elements along the trip. A closed carrier might be the best option for your high-value collectible or antique.
What Is the Best Company to Ship a Car to Dallas?
When choosing auto shipping companies in Dallas, you want to make sure that they are a team of professionals who knows how to handle your car in the safest way possible. You also want someone who has the proper insurance and licensing while your vehicle is in transport. We provide door-to-door service and have a long-standing reputation for quality and care when shipping your vehicle.
What Do I Need to Know Before Shipping a Car?
Before you ship your car, you need to make sure that there is nothing loose that could roll around or damage the inside of the vehicle. In some cases, we can ship the car with up to 100 pounds of personal items, but you must make sure they are properly secured. You need to let us know if the car is inoperable so that we can make special arrangements.
Another thing that you need to consider is that you should schedule your transport as far in advance as possible. We know that sometimes, emergencies happen and that circumstances can arise quickly. Local Car Shipping will do everything we can to meet your needs in these circumstances, but scheduling as far in advance as possible allows us to better meet your needs.
How much does it cost to ship a car to Dallas from Houston?
Dallas auto shipping cost depends on the distance, type of carrier that you choose, and the type of vehicle. For most, it costs between $250-350 for most passenger vehicles. Ask about dealership discounts for multiple vehicles. The distance from Dallas to Houston is about 245 miles, depending on the exact pick-up and drop-off locations within the city. It usually takes between 3-4 hours of travel time, not including driver breaks. While it is possible to make the trip in one day, the average time from pickup to drop off is 36-48 hours.
Texas is a big state, but Dallas is more centrally located, so you can usually expect the trip from Dallas to almost any location in Texas to be similar to the trip from Dallas to Houston. Both Dallas and Houston are major metropolitan areas and have several car auction locations. We have frequent routes scheduled between these two cities, so it is easy to find something to accommodate your needs.
A Few Questions About shipping car to Dallas
Local Car Shipping is a growing business due to the responses and recommendations of our customers. We have experience in the industry and can offer an expanding list of services to our customers. All of our auto transport specialists are licensed, bonded, and insured. We follow all U.S. Department of Transportation regulations so that you can rest assured that your vehicle will arrive safely. If you need to transport your vehicle from Dallas to Houston or from Houston to Dallas or any point in between, give the professionals at Local Car Shipping a call so we can get you on the soonest route possible.
Need A First Class Car Shipping Company In Houston? You Found It!
Our work is always quick and efficient! We aim to save you time and money! Call us and get the best affordable moving experience to forget the heavy lifting and moving stress!